Symfonie Afghan/Tunisian Crochet Hook Set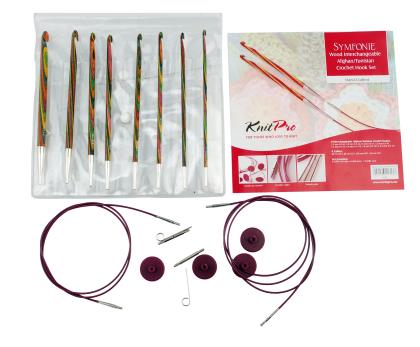 Symfonie Afghan/Tunisian Crochet Hook Set
Code:

20735

Size(s):
Afghan/Tunisian Crochet
Details:

Crochet Hooks in size : 3.5, 4.0, 4.5, 5.0, 5.5, 6.0, 7.0 & 8.0mm

Cable (length) : 60cm, 80 cm (2 Nos.) & 100cm

Accessories : 8 end caps, 4 cable keys & 1 set of cable connectors

Packaging : Clear Vinyl Case

Availability:

Out of Stock

Add to My Wishlist
Notify me when this product is in stock:
Email:
domperidone
domperidone
sandoz
Experience the ultimate luxury in crafting with Symfonie crochet hooks. Made out of densified laminated Birchwood, these hooks are a benchmark in strength. With their perfect finish, smooth surface and rich colors, they have become a favorite among crafters the world over.
abortion pill online
abortion
pill online
The Symfonie interchangeable hooks are made of densified laminated Birchwood with metal ferrules on one end, where a cable can be screwed to make the hook into an Afghan hook. This set is an all-in-one which caters to all your crochet needs. Use the individual hooks as single ended crochet hooks, or connect a cable with an end cap to make an Afghan hook, you can even connect two hooks on either ends to make a double ended Afghan crochet hook.
buy naltrexone online usa
buy naltrexone 3mg
website
effects of antidepressants and alcohol
antidepressants and alcohol
withdrawal
The set contains eight crochet hooks in sizes 3.5mm to 8mm, with cables in lengths 60 cm, 80 cm( 2 no's), and 100 cm, 8 end caps, 4 cable keys, and one connector - all packed in a clear vinyl case.