Symfonie Interchangeable Needle Set-Starter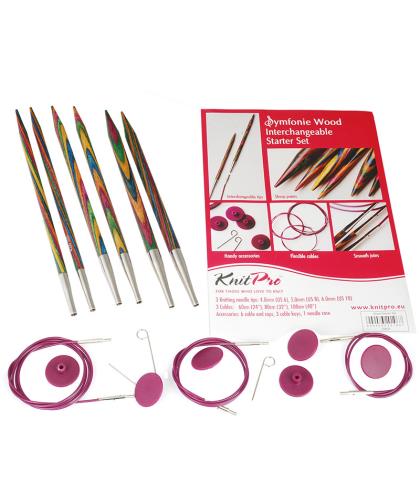 Symfonie Interchangeable Needle Set-Starter
Code:

20604

Set(s):
Starter Set
Details:

Knitting Needle Tips in size : 4.0, 5.0 and 6.0 mm(3 pairs)

Cables(length) : 60cm, 80 cm and 100 cm

Accessories : 6 end caps, 3 cable keys & 1 set of cable connectors

Packaging : Clear Vinyl Case

Availability:

Out of Stock

Add to My Wishlist
Notify me when this product is in stock:
Email:
Symfonie needles are the ever popular multi-colored needles made of densified laminated Birchwood. These exquisite needles and hooks have become a benchmark in terms of strength and luxury in the crafting world. Sharp tips, smooth surface and rich colors make them a perfect subject for love at first sight.
cialis originale
cialis
generico
Symfonie Interchangeable circular needle starter set contains three pairs of needle tips, with nylon cables of varying lengths, and a key to screw the cables in securely to the needle tips. The set also contains stoppers or end caps, which allow the knitter to disconnect the needle tips and screw in the end caps, thus using the cable as a stitch holder, and freeing the needle tips for other projects. Interchangeable needles give more flexibility to the knitter, since they can choose the needle size, and the length of the cable that is required for the project. One simply has to screw in the needle to the cable, tighten with the key provided, and one has a customized length of circular needles ready for work. With the weight of the project resting in the lap, the pressure is eased off the wrists, thus preventing sprains while knitting large, heavy garments.
otc inhalers for copd
over the counter asthma
inhalers
Clear vinyl case containing knitting needle tips in size 4.0, 5.0 and 6.0 mm (3 pairs), cables in lengths 60cm, 80 cm and 100 cm, 6 end caps, 3 cable keys & 1 set of cable connectors.